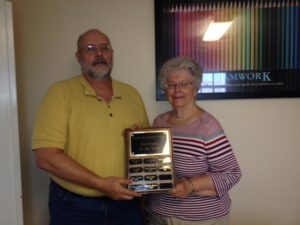 Being volunteer of the year once just wasn't enough for Carolyn Brockman.  CCJ proudly announces that Carolyn has been named volunteer of the year for 2016.  This represents the second time Carolyn has been so honored.
Carolyn is a longtime advocate and supporter of CCJ.  Her contributions include working as a volunteer probation officer, member of the Board of Directors and service as Board Treasurer.  CCJ staff also appreciates Carolyn's annual Chicken Noodle Soup lunch.
Please join us in thanking Carolyn for her decade plus service to CCJ.  Congratulations to Carolyn on being named volunteer of the year for a second time.