OUR MISSION
"Our mission is to rehabilitate offenders, reduce victimization, increase public safety, and contribute to improving our communities."
The Center for Creative Justice, or CCJ, is a community based, non-profit agency providing correctional supervision to adult criminal offenders placed on probation by the local judiciary.  Established in 1974, CCJ has a long, rich history of bettering our community by providing non-profit probationary services.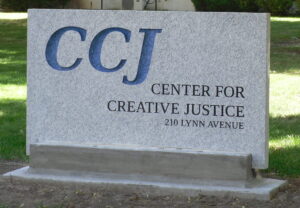 Our clients are your neighbors, employees, co-workers, friends, and possibly members of your family.  CCJ is mainly assigned first time and non-felony offenders. The vast majority of CCJ's clients are assigned by the local court system in Story County and Ames.  CCJ helps individuals get their life back on track through rehabilitation, which reduces crime in our community, decreases victimization, and lessens the burden on our law enforcement, jails, and courts.
---
OUR VALUES
We acknowledge and support victims.
We believe all people are capable of change.
We support clients in their efforts to change.
We treat all people with dignity and respect.
We believe clients must accept responsibility for their choices.
We believe clients should be held accountable for their actions.
We will work together in community partnerships to increase our clients' success.
---
OUR WORK
Without the services provided by CCJ, offenders would simply receive a fine and/or jail sentence with little to no rehabilitative effort and no supervision.  Clients supervised by CCJ are held accountable as they work toward well-defined goals and must strictly adhere to the rules and conditions of their probation.  Programming completed during supervision may include the following:
Substance Abuse Evaluation and Treatment
Mental Health Evaluation and Treatment
Anger Management
Iowa Domestic Abuse Program (IDAP)
Drinking Driver Education Course
Restitution Planning and Payment
Community Service
---
OUR IMPACT
Approximately 70% of all probation cases in Story County are handled by CCJ.
In FY2022-2023, approximately 90% of CCJ's clients successfully completed all requirements of their probation supervision.
In FY2022-2023, approximately 87% of CCJ's client that successfully completed probation did not commit a new crime in the year following their release from supervision.
In FY2022-2023, approximately 99% of clients reported having made a positive change based in their lives based on their participation in probation supervision at CCJ.
Probation is approximately 1% the cost of incarceration.